For more information contact:
Lena-Nordenskiold Biological Station, Contact: Dr. Vladimir Pozdnyakov, deputy-director, head of Research Division of "Lena-Nordenskiold Biological Station", Kulakovskogo street 12-59, Yakutsk, 677007 Russia. TEL +7-411-2-446 815 / FAX +7-411-2-241 290 / E-mail: sterhⓐsakha.com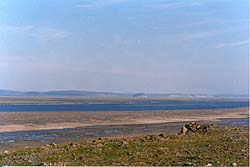 The Lena River Delta is one of the most important areas for Anatidae breeding in the East Asian Flyway. It is the largest delta in the North Asia (30.000 km2). Here there are 25 species of Anatidae, 15 of which nest. Not less than 200.000 ducks, 30.000 geese, 6.000 swans inhabit the Lena Delta in summer.
In 1985 the part of the delta (13.00 km2) was included in the State Nature Reserve "Ust-Lensky" of Russian Federation. In this territory any economic activity is forbidden. In 1996 the Government of Sakha Republic (Yakutia) included the rest-unprotected territory of the delta in the structure of Resource Reservation "Lena-Delta". In this territory only traditional economic activity of the indigenous is permitted. In 1995 with financing of the Government of Yakutia and WWF Sweden the International Biological Station "Lena-Nordenskiold" (IBS) has been build and inaugurated here.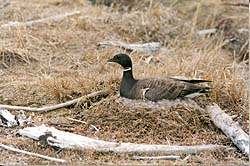 Since 1994 in the Lena Delta the scientific staffs of Reserve and IBS carry out monitoring for conditions and success of bird breeding, including Anatidae. This is helped by various foreign expeditions, the members of which carry out their scientific programs. For these years the biologists and ornithologists from Belgium, England, Germany, Holland, France, Sweden, South-African Republic, Japan worked in the Lena Delta.