Introduction to the Network Sites

Kabukurinuma

Miyagi, Japan

[ in Japanese ] [ Back ]
---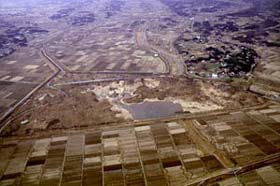 Kabukurinuma on 9 Dec. 1996 ©1996 H. Kagawa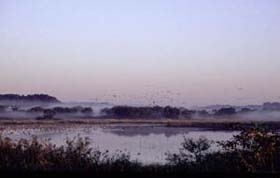 Kabukurinuma is a permanent freshwater lake in Tajiri Town, northern Honshu (main island), Japan (38°37'N, 141°06'E). Most area of the larger floodplain of 1,000 ha including 400 ha open water in the area have been drained for rice fields in the 20th century and 100 ha of current lake has remained. Rice field of 50 ha beside the current lake was decided to turn back to the lake, now the lake having 150 ha.
The Lake supports a large number of wintering Anatidae populations, especially goose species:
Peak number in the Lake Kabukurinuma in recent three winters.
Species or
subspecies
1997/98
winter
1996/97
winter
1995/96
winter
Anser fabalis middendorfi
993
966
537
Anser albifrons
32,000
23,000
11,364
The management authority of the Site is:
Tajiri Township Government, Division of Agriculture, Commerce and Industry Tomioka 183-3, Numabe, Tajiri, 989-4308 Japan
TEL +81-229-39-1111 / FAX +81-229-39-3100
E-mail: noushouⓐtown.tajiri.miyagi.jp
URL <Japanese>: http://www.town.tajiri.miyagi.jp/
Further information of the Site can be found on the internet at:
Tajiri Township Government: <Japanese>

Hasama Public Works Office of Miyagi Prefecture Government: <Japanese>
Pictures from monitoring camera beside the lake is on-line.

Kabukurinuma Homepage: <English> & <Japanese>
by KABUKURI Wetlands Club
Publications and educational tools on the Site

Symbolic mark of the conservation of Kabukurinuma by KABUKURI Wetlands Club

Educational Picture Books, Kabukuri Wetlands Club, 2002, in Japanese:


What is the wetland? -- Water and living nature


Around the wetland -- fauna and flora in Kabukurinuma


Kabukuri Paper Craft -- a compilation of sheets for craft object for children to scissor and paste
[ Top ] [ in Japanese ] [ Back ]
The "Action Plan for the Conservation of Migratory Anatidae in the East Asian Flyway" is a component of the "Asia-Pacific Migratory Waterbird Conservation Strategy", and the "Anatidae Site Network in the East Asian Flyway" is a programme of international co-operation to enhance the conservation of the wetlands of international importance for Anatidae (ducks, geese and swans) in the flyway under the "Action Plan". The "Anatidae Working Group" of Asia-Pacific Migratory Waterbird Conservation Committee oversees the implementation of these programmes with technical support from Anatidae Flyway Officer.

For further information, please contact the Anatidae Flyway Officer. Posted 14 May 1999, updated 25 January 2003.