Introduction to the Network Sites

Yonago-Mizudori-koen

(Yonago Waterbird Sanctuary) in Lake Nakaumi

Tottori, Japan

[ in Japanese ] [ Back ]
---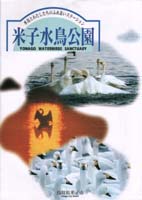 An 8-page brochure of the Sanctuary, bilingual in English and Japanese, available from Yonago City Government.


The Yonago Waterbird Sanctuary (30 ha) has been settled by the Yonago City Government in the Lake Nakaumi, western Honshu (main island), Japan (35°26′N, 133°17′E).
The Sanctuary supports large number of Bewick's Swan Cygnus bewickii. Recent counts by the Sanctuary are as follows:
| | |
| --- | --- |
| 28 Dec. 1997 | 909 |
| 13 Dec. 1996 | 832 |
| 2 Dec. 1995 | 1,164 |
The management authority of the Site is:
Yonago City Government, Division of Tourism
Kamocho 1-1, Yonago, 683-0823 Japan
TEL +81-859-23-5211 / FAX +81-859-23-5598
URL <Japanese>: www.yonago-city.jp
Activities in the Site:
Further information of the Site can be found on the internet at:
Yonago City Government: <Japanese>

Yonago Waterbird Sanctuary: <English> <Japanese>
managed by Naka-no-Umi Waterbirds International Exchange Foundation
[ Top ] [ in Japanese ] [ Back ]
The "Action Plan for the Conservation of Migratory Anatidae in the East Asian Flyway" is a component of the "Asia-Pacific Migratory Waterbird Conservation Strategy", and the "Anatidae Site Network in the East Asian Flyway" is a programme of international co-operation to enhance the conservation of the wetlands of international importance for Anatidae (ducks, geese and swans) in the flyway under the "Action Plan". The "Anatidae Working Group" of Asia-Pacific Migratory Waterbird Conservation Committee oversees the implementation of these programmes with technical support from Anatidae Flyway Officer.

For further information, please contact the Anatidae Flyway Officer. Posted 14 May 1999, updated 15 November 2004.