Introduction to the Network Sites

Terhiyn Tsaggan Nuur

(Khorgo - Terhiyn Tsagaan Nuur Natural Park)

Arkhangai Province, Mongolia

[ in Japanese ] [ Back ]
---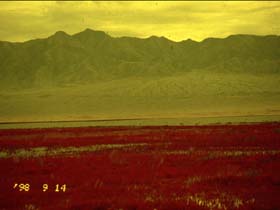 Terhiyn Tsagaan Nuur



The Terhiyn Tsagaan Nuur located in the valley of the Suman River, a tributary of the Selenge River in the central Khangai Mountains, 165 km SSW of Moron, Arkhangai Province (48°10'N, 99°43'E). A protected area, Khorgo - Terhiyn Tsagaan Nuur Natural Park has been established. Freshwater and oligotrphic lake is formed by volcanic activity. The area of the lake is 6,110 ha with the maximum depth of 19.5 m. About 20% of the lake supports aquatic macrophytes. The aquatic vegetation is not as well developed as that of Ogii Nuur, but much the same species are present along with some Butomus ambellatus. Blue-green algae dominate the phytoplankton in summer. The lake is surrounded by grassy hills and mountains with some larch forest. The fish fauna is dominated by typically north Euroasian species of cyprinids, pike and perch, and is similar to that of Ogii Nuur.
The marshes at the west end of the lake are an important breeding and staging area for migratory waterfowl. Birds recorded during a brief survey in June 1977 included four pairs of Cygnus cygnus, 2,100 Anser indicus (apparently a moulting flock), 30 Tadorna ferruginea (breeding), 10 Mergus serrator (possibly breeding) and 15 M. merganser (Kitson 1978).
Management of the Site is provided by:
The Administration of the Khangai Nuur Natural Parks,
Tsetserleg, Arkhangai Province, Mongolia.
Activities in the Site:
Further information of the Site can be found on the internet at:
Summarised from Application form to the Network compiled by Dr. Ts. Adyasuren, Development and Environment, NGO, and additional information.
[ Top ] [ in Japanese ] [ Back ]
The "Action Plan for the Conservation of Migratory Anatidae in the East Asian Flyway" is a component of the "Asia-Pacific Migratory Waterbird Conservation Strategy", and the "Anatidae Site Network in the East Asian Flyway" is a programme of international co-operation to enhance the conservation of the wetlands of international importance for Anatidae (ducks, geese and swans) in the flyway under the "Action Plan". The "Anatidae Working Group" of Asia-Pacific Migratory Waterbird Conservation Committee oversees the implementation of these programmes with technical support from Anatidae Flyway Officer.

For further information, please contact the Anatidae Flyway Officer. Posted 14 May 1999, updated 4 February 2003.