JOGA9
(2007)

東アジア・オーストラリア地域渡り性水鳥重要生息地ネットワーク(ガンカモ類)支援・鳥類学研究者グループ:JOGA
第9回集会「東アジア・オーストラリア地域フライウェイ・パートナーシップの発足と協力」
日韓のガンカモ類の共通点・特色、韓国で開催される第10回ラムサール条約締約国会議を控えて
報告4

The comparative study on habitat use pattern of wintering swans in two wetlands: Nakdong River Estuary (South Korea) and Lake Nakaumi area (Japan)

Lee, Chan-woo (Ramsar Wetland Center Korea)
---
A comparative study on habitat use pattern of wintering Swans was conducted at two important sites (the Nakdong River Estuary in S. Korea and Lake Nakaumi Area in Japan) during the winter from 2002 to 2005. They are located at the middle of the East Asian-Australian Flyway and have similar latitudes 35°05′N and 35°26′N respectively. In the Nakdong River Estuary, more then 85% are Whooper Swan Cygnus cygnus whereas it was founded that in the Lake Nakaumi area most of them are Bewick's Swans Cygnus bewickii. During the survey, swans reached these sites simultaneously (about late October) and the increase of swan numbers was similar in early November. In the late November, peak count number was ca, 3,000 (Nakdong River Estuary) and ca, 1,200 (Lake Nakaumi and Lake Shinji). However, habitat use pattern and decrease in swan number showed different pattern. Compared to the Nakdong River Estuary, swan population in the Lake Nakaumi area remained the same until mid March. In the Nakdong River Estuary, swans utilized mostly tidal wetland habitat as feeding and roosting ground. As the swan population increased, food plants (Scirpus triqueter) decreased. Swan population decreased rapidly in early December. In the Lake Nakaumi Area, feeding and roosting habitat was different divided. During the daytime, they used near-by agricultural land as feeding ground and also humidity and mild winter weather support the food plant (Poa spp.) growth. In the nighttime, most of the swans used artificial wetland (Yonago Waterbird Sanctuary) as roosting ground. Land use pattern and habitat type are directly linked to the wintering pattern of swans in both countries.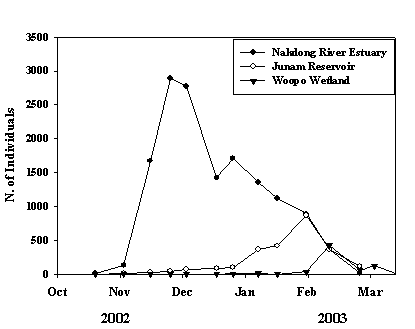 Fig. 19. Changes of swan individuals in the three wetlands (Nakdong River Estuary, Junam Reservoir, Woopo Wetland)
Key words:

Nakdong River Estuary, Lake Nakaumi, Lake Shinji, Whooper Swan

Cygnus cygnus

, Bewick's Swans

Cygnus bewickii

, population, food plant, artificial wetland.
[JOGA第9回集会「東アジア・オーストラリア地域フライウェイ・パートナーシップの発足と協力」2007年9月21日]
URL: http://www.jawgp.org/anet/jg012d.htm
2007年9月16日掲載,JOGA.