World Wetlands Day
in Miyagi
JAPAN
February 2nd is an historic day for wetlands worldwide as it is the anniversary of the signing of the Ramsar Convention in Iran in 1971.

In late October 1996, February 2nd of every year was officially designated as World Wetlands Day by the Convention's Standing Committee, in order to raise public awareness of wetland values and benefits in general and the Ramsar Convention in particular (Ramsar Bureau homepage on WWD).

Some organisations and individuals in Miyagi region, northern Japan, celebrated the World Wetlands Day since 1997, having some events for the public awareness to and improvement of the conservation and wise use (sense of Ramsar Convention) in our area, and they are currently planning activities for World Wetlands Day 2001.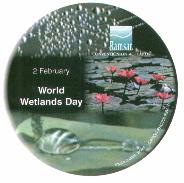 We would like to show our activities since 1997 and future planning in this home page. Please check this page again for further news update.
---
"Ramsar World Wetlands Day Logo" is used on these pages under the Ramsar Bureau's notes in the homepage.
These pages are settled to publicise the World Wetlands Day activities by some organisations in Miyagi region together. JAWGP is willing to host the information center of these activities.

Yes, we have pages in Japanese language. You may read it if you have Japanese fonts in your computer -> Japanese pages.
For further information, please contact to:
Yoshihiko Miyabayashi [E-mail: yym@mub.biglobe.ne.jp]
Japanese Association for Wild Geese Protection (JAWGP)
Minamimachi 16, Wakayanagi, 989-5502 Japan
TEL (81)228-32-2004 / FAX (81)228-32-3294
Secretariat E-mail: hgh02256@nifty.ne.jp
---
21 January 2001 -- Yoshihiko Miyabayashi, JAWGP
The website for "World Wetlands Day in Miyagi, Japan" was originally built at http://www2m.biglobe.ne.jp/~wwd/ for years of 1997 - 2001, and its latest pages are now retained, as they were, at http://www.jawgp.org/wwdm1997/.